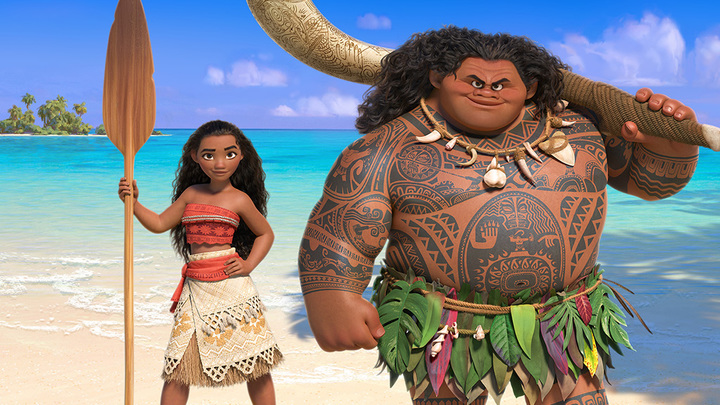 Previous post: Munir's Disney Retrospective - Animated Classic #55: Zootopia (2016)
Walt Disney Animation Studios 55th film,
Zootopia
, was a complete success grossing (against all odds) over $1b and becoming the third highest grossing film of the year. Audiences were drawn to the fantastic animation, richly-developed characters and a poignant, relevant and timely story.
Zootopia
continued the winning streak of the studio but it was not their only offering of this year.
Moana
, their second film of the year, is a more conventional fairy tale that nonetheless provides high-quality entertainment for the whole family and it'll surely become a classic in the years to come.
Directed by the legendary duo of Ron Clements and John Musker,
Moana
in many ways is a homage to the past including the directors previous films. Like most of Disney's fairy tales,
Moana
has a young female protagonist at the center of the story who dreams of going to other lands and exploring the world, she has a funny animal sidekick and the film is filled with memorable and catchy songs including the required "I want" song that we've heard since
Snow White
.
Still, even if there's a dose of familiarity in the film,
Moana
executes this elements really well and the resulting story is just a complete blast from beginning to end. The film is imbued with Polynesian culture which the filmmakers have included with care and sensitivity and adds a rich layer of depth to the characters and the story.
Here's a brief synopsis: Moana, daughter of the chief of the little island of Motunui, feels a strong connection to the ocean but her father tells her to stay on the island. But, when the fish and crops start to die, Moana (encouraged by her grandmother), sets sail to find Demi-God Maui and find the heart of Te Fiti to save her island.
Moana is wonderful heroine. She loves her people but she also feels like her true-calling lies elsewhere. She is not an expert wayfinder and she needs a lot of work to do in order to become one but her attitude and determination makes her a relatable character and her failings only make her stronger. Maui, on the other hand, it's smug, over-confident and dismissive of Moana and he may be there to serve as a comic counterpart to Moana but he also has a deeper, sensible side which he reveals in the course of the film. While Moana and Maui's relationship is the center of the film, another relationship is also very important and it's between Moana and her grandmother, Tala. Tala is the one that encourages Moana to follow and accept the ocean's calling and she is the guide that Moana needs in her most dire times. Most Disney heroines have a strong connection with their fathers so it's nice to see the filmmakers break that rule and make the heroine connect with another relative for a change.
It wouldn't be a "princess" film with some comic relief and in Moana, it takes the form of Hei Hei a very dumb rooster whose antiques will make you laugh in several occasions. The ocean, which is a character here, also serves as comic relief in some parts while also providing Moana with guidance in her mission.
The cast is outstanding with newcomer Auli'i Cravalho giving a powerhouse performance as the title character. Dwayne Johnson is fantastic as Maui, imbuing him with a big personality but also with depth, making him a compelling character. Rachel House is wonderful as Grandma Tala and Alan Tudyk proves he can do pretty much anything as the voice of Hei Hei. The rest of the cast is great as well.
Moana
is the first Disney musical since
Frozen
and it doesn't disappoint. Clements and Musker enlisted the help of Mark Mancina (who also composed the score), Opetaia Foa'i and Lin-Manuel Miranda (better known for a little musical called
Hamilton
) and the trio has penned wonderful songs that not only serve the story but also will be played endlessly by children everywhere. Particular stand-outs are "How Far I'll Go", "We Know the Way", "You're Welcome" and "Shiny". Be ready to hear them on repeat.
It shouldn't surprise anyone at this point that
Moana
looks absolutely fantastic. WDAS is at the top of their game and
Moana
may be their most beautiful film yet. The ocean, the textures, the designs, everything is just top-notch and there are many scenes that will take your breath away by their sheer beauty.
Walt Disney Animation Studios are finishing this year just like they started it: with a bang.
Moana
is a fantastic tale of a girl trying to find her place in the world. The story and the elements may be familiar but the execution proves that directors Ron Clemens and John Musker are masters at what they do and that Disney is the absolute king when it comes to fairy tales.
Moana
is a film full of heart, great characters, a relatable story, wonderful songs and superb animation. Highly-recommended!
Rating: 5/5.
Coming in 2018 - Animated Classic #57: